Detailed requirements
Two identical passport-sized photographs of the applicant must be included with a visa application.Below are the requirements for photos.The application will be delayed if your visa photo does not meet the requirements.
Size
Photos must be 45-50mm in height and 35-38mm in width

An up-close picture of your face and shoulders is needed

Your face must take up 70% to 80% of the photo.
Pose
In the image, the head must be centered.Face the camera directly and show your full face

Avoid tilting or turning your head in any way.
Expression
You can wear glasses, your eyes must be clearly visible in the photo.

Do not wear sunglasses or tinted/coloured glasses
Head and hair covering
You should not wear hats, caps, headbands, etc, unless you wear them for religious reasons
Paper quality
The photo should be printed on photographic paper

The reverse of each photo should be white and unglazed.
Image Quality
Your photos must be less than 6 months old

and must show

exactly the same image.

Be in colour
Background and lighting
The background should be plain white or light gray

Focus sharply and expose correctly

Maintain a good colour balance, have natural skin tones and do not have a red eye

Make sure the background and your facial features have good contrast

Neither the image nor the background should have shadows or glare.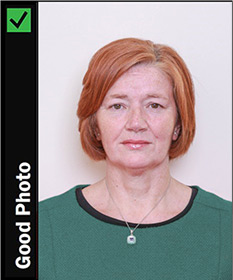 You need to write the following in BLOCK CAPITALS on the back of each photo:
Note: Re-entry visa applicants need not include the visa application or transaction number.
Include the photos with the application form.The photos should not be stapled or attached to the form.