General Passport Photo Guidelines
Making passport photos at home is not as difficult as you might think. Just follow the passport photo guidelines and some photo taking tips, you can make your own compliant passport photos in seconds. You can take several photos and choose the best looking one for printing.

Make Passport/Visa Photos Online Now »
Different countries have different passport photo requirements. Most of the requirements are common.
General Passport Photo Requirements
Passport photo must be in color.
Photo has white or off-white background. If you take photo against a white wall, there should be no decoration on the wall.
Look straight to the camera.
The photo must be with neutral facial expression.
Both eyes should be open.
Mouth must be closed. No smiling.
Do not wear a hat. Full face must be visible.
There should be no other objects in the photo background or on the face, such as headset. There should be no hair on the face as well.
If possible, do not wear glasses, especially glasses with dark frames. If you must wear glasses, ensure that there is no reflection on the glasses. Both eyes must be clearly visible.
Forehead and eyebrows should be visible. Do not cover eyebrows with hair.
There must be no shadow on the face and behind the head. Please see the tips below on how to avoid shadow in the photo.
Lighting on the face must be even.
Different countries has different requirements on passport photo size. But don't worry, our crop tool can help you to get correct passport photo size. You can find more details in the passport photo requirements of various countries.
Passport Photo Taking Tips
Lighting is very important. With good lighting, you can take good passport photos with normal digital camera. There are also other import tips that you need to know when taking passport photos.
Take photo in bright room. Use a white wall as background. Or you can also put a big enough white sheet on the wall. You cannot use flash light, because flash light will cause shadow at the background. You can turn on the ceiling light. Face need to be uniformly illuminated.
Stand one meter away from the wall, otherwise there may be shadow on the wall.
Use a tripod. Adjust the camera position to the eye level. This will help to make photo with sharp focus.
When adjust the camera distance to leave enough space between the top of the head and top border of the photo.

After you take the photo, upload it to our website and crop it to the correct passport photo size.
US Passport Photo Examples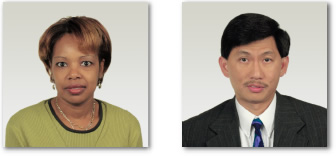 ---