Ireland Passport (35x45 mm) Photo Size Requirements and Online Tool

Make Ireland Passport Photos Online Now »
Do not worry about the photo size requirements. Our online tool makes correct photos, ensuring the photo size and head size are correct. Background will be enhanced as well.
Standards for acceptable photographs:
Photographs should be not more than 6 months old.
They may be in colour or black and white [b/w preferred].
Minimum photos size 35mm x 45mm, maximum size 38mm x 50mm
The photograph should show a full front view of the subject's head, as he or she would normally appear.
The image must be sharp and clear, and taken against a plain white or light grey background
Sunglasses are not acceptable. Tinted glasses may be worn provided they do not obscure the person's eyes.
Photographs should not show military or police uniforms.
Only head coverings worn for religious reasons are permitted. Hair bands are not allowed.
It is essential that the photographs submitted with the application meet the Passport Office photo guidelines. These guidelines are based on internationally accepted standards. See Advice for applicants and Technical Advice for Photographers links below for details.
Unacceptable photographs include where the face is not clear, the top of the head is not showing, where parents hold infants in their arms, person has dark glasses, home produced photographs which are not identical or where the paper quality is not suitable for scanning by the Passport Office, and photos taken against a dark background.
Poor quality photographs account for the highest proportion of applicants which must be rejected by the Passport Office. The Passport Office would encourage applicants to study the photograph guidelines insert which accompanies the application form and also the information contained on this website before making their application.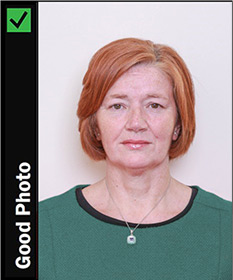 Irish Passport Online Photographer Guidelines

Source: https://www.dfa.ie/passports-citizenship/top-passport-questions/photo-guidelines/

If you want to make passport/visa photos for other countries, click the button below.

Make Passport/Visa Photo for Other Countries


---