Detailed requirements
Ireland Passport Photo Requirements
When applying for an Irish passport, it is crucial to provide a high-quality passport photo that meets the specific requirements set by the Irish government.
You must submit a photo that has been taken in the last six months.
Digital photos
If you apply online, you must submit a digital photo.
Here are the technical requirements for your digital photo:
A scanned photo cannot be used.

It should be in color.

A minimum of 715 pixels wide and 951 pixels high is required.

Be in JPEG format.

There should be no compression, loss, or compression artefacts.

It cannot be altered or enhanced digitally.

Do not contain barrel distortions or any other distortions.

It should not exceed 9 megabytes (9MB).
Printed photos
If you apply by paper application form, you must submit a printed photo.
Ensure that your printed photo meets these technical requirements:
Size
Photographs should show your face and top of your shoulders so that 70% to 80% of the frame is occupied by your face.
Minimum: 35mm x 45mm

Maximum: 38mm x 50mm
Quality
Photo-quality paper must be used for printing photos.

Photos must be in sharp focus and correctly exposed

Ink marks and creases should not be present.

It is not acceptable to make digital enhancements or changes.

The reverse of the photos must be white and unglazed.

It is recommended to take black and white photos since they will be digitally printed on a passport.Color photos are also accepted.
Guidelines for digital and print photos on pose and visuals
Facial features and

Expresssion
Your expression should be neutral, your mouth should be closed, and your smile should be avoided.
You should not tilt your head up or down or left or right.Face the camera directly.
Your face should be visible, and your hair should not cover your eyes.

Glasses are acceptable.No part of your eyes should be covered by the frame.There must be no glare on the lenses.It is not permitted to wear dark glasses.

A head covering can be worn for religious or medical reasons.It is important that your full facial features are visible.Head accessories cannot be worn for any other reason.

Do not wear sunglasses.
2.Lighting and focus
Your photo must be in focus.Lighting and color should be balanced, not too dark or too light.
The face and the back of your head should not have any shadows.
Photographs with red eye are unacceptable.
It is important to have a good colour balance and a natural skin tone.
3.Distance
4. Background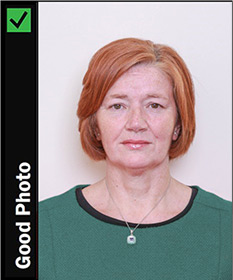 Child photos
In the case of an infant or very young child who cannot support themselves, they should be photographed lying down on a plain, white surface.

Ensure that no other people appear in the picture, so no hands or arms supporting the child should be visible.
In photographs, soothers/pacifiers cannot be present since they can obscure facial features.