United Kingdom Visa Photo
The United Kingdom (UK) has specific requirements for visa photos that must be followed in order to ensure a successful visa application. This document will outline the guidelines for the UK visa photo and provide you with the necessary information to meet these requirements.
1. Size and Dimensions:
- The photo must measure 45 millimeters (mm) high by 35mm wide.
- The photo should have a head height of 29mm to 34mm from crown for head to chin.
- The photo should be taken without any borders.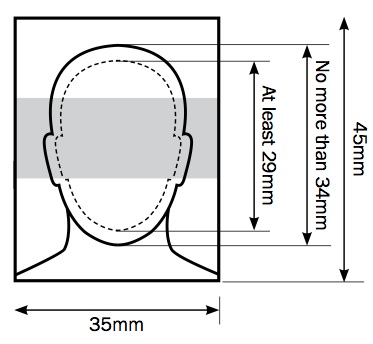 2. Background:
- The background of the photo should be a plain cream or light grey
- Avoid using patterned or textured backgrounds.
- The background should be free from shadows or reflections.
3. Posting and Facial Expression:
- The applicant should have a neutral expression with the mouth closed.
- The eyes should be open and clearly visible, with no hair covering the face.
- The photo should be a close-up of your full head and upper shoulders
- The photo should contain no other objects or people
- The subject should be facing forwards and looking straight at the camera
- Glasses cannot be worn unless you absolutely have to. If you must wear glasses, they cannot be sunglasses or tinted glasses, and you must make sure your eyes are not covered by the frames or any glare, reflection or shadow.
4. Clothing:
- The applicant should wear their everyday clothing for the visa photo.
- Avoid wearing uniforms or clothing that may obscure the face or create confusion.
5. Lighting:
- The photo should have even lighting across the face, with no shadows.
- Avoid using flash photography, as it can cause harsh shadows and reflections.
- The photo does not have 'red eye'
6. Printing:
- The UK visa photo should be printed on high-quality photo paper.
- The photo should be clear and in sharp focus, with no pixelation or blurriness.
- The photo should not have any creases or tears
Printed photos
You need 2 identical printed photos.
Digtial photos
If you are you are applying your Visitor Visa to the UK online, you need to upload to a digital photo.
Photos for child passports
Children must be on their own in the picture. Babies must not be holding toys or using dummies.
If the child is under 6, they don't have to be looking directly at the camera or have a neutral expression.
If the child is under 1, their eyes don't have to be open. If their head is supported by a hand, the hand mustn't be visible in the photo.
Passport photos: dos and don'ts