A United Kingdom Driving Licence photo is an essential requirement for obtaining a driving licence in the UK. It is a form of identification that displays the holder's personal details and a photograph. A UK passport photo is needed for the UK driving licence.The photo must meet specific guidelines to ensure clarity and accuracy.
Here are some key points to consider when taking a United Kingdom Driving Licence photo:
1. Background: The background of the photo should be light grey or cream. Avoid any patterns or distractions that may obscure the subject.
2. Lighting:
- The photo should have even lighting across the face, with no shadows.
- Avoid using flash photography, as it can cause harsh shadows and reflections.
- The photo does not have 'red eye'
3. Pose and Expression: The applicant should face the camera directly and maintain a neutral expression. Both eyes should be open and visible, with no reflections or red-eye.
4. Framing: The head and shoulders should be centered in the frame, with the face fully visible. Make sure that the photo is not blurry or pixelated.
5. Clothing: The applicant should avoid wearing any hats, head coverings, or sunglasses, unless it is for religious or medical reasons. The face should be fully visible, with no accessories obstructing the view.
6. Size and Resolution: The photo should be 45 millimeters (mm) high by 35 mm wide. It should have a resolution of at least 600 DPI (dots per inch) to ensure clarity and detail.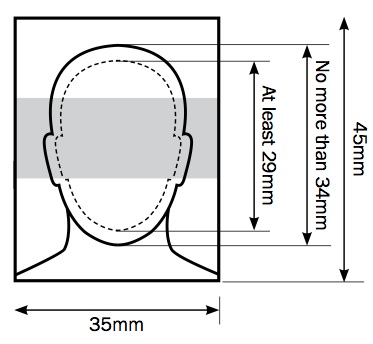 7. Printing: The photo should be printed on high-quality photo paper with a matt or glossy finish. Avoid using regular printer paper, as it may not meet the required standards.